Les prix Stratégies Logistique de l'innovation durable ont été remis le 15 décembre lors de World Class Logistics, manifestation organisée par Premium Contact.

Ce prix était une première et prends d'ores et déjà sa place dans l'univers des récompenses logistiques.
Son jury, présidé par Marc Prokopp, directeur Supply Chain des Galeries Lafayette, comprenait plusieurs professionnels de la green logistics dont deux membres de la commission Logistique Urbaine de l'Aslog, Juliette Collin et Jérôme Libeskind, expert en logistique urbaine et e-commerce.
Plusieurs catégories avaient été prévues pour la remise des trophées.
La catégorie Chargeurs a permis de récompenser Scapalsace pour l'entrepôt totalement automatisé réalisé par Witron. Ce concept avait fait l'objet d'une présentation lors de la matinale Intralogistique de l'Aslog le 30 septembre dernier à Lille, animée par Jérôme Libeskind. Le concept d'automatisation d'entrepôt permet de réduire l'emprise foncière nécessaire pour la réalisation de cet entrepôt.
Le prix de la catégorie Transporteurs et Prestataires a été remis à European TK Blue Agency. Cette agence extra-financière innove en permettant aux entreprises de mesurer l'impact des externalités négatives produites par le transport de marchandises. C'est une étape nécessaire afin de permettre une amélioration des pratiques du transport et progresser dans la mise en œuvre de méthodes de distribution vertueuses.
Le prix de la catégorie Infrastructures a été décerné à Sogaris pour le bâtiment n°3 du site de Créteil. Le jury a considéré que le fait de pas détruire une friche industrielle des années 1970 mais de la réhabiliter et la transformer en un bâtiment performant sur le plan logistique et environnemental est en soi une grande innovation.
Le prix de la catégorie Eco-Conception a été remis à Chep pour la conception du quart de palette en matériaux recyclés. Ce quart de palette permet d'améliorer la gestion de la logistique des displays et autres boxes de grande distribution. Sa conception permet d'économiser sur le transport et sur les emballages.
La catégorie Logistique Urbaine, qui rassemblait le plus grand nombre de dossiers, souvent de très grande qualité, a été remis à la société Drivoo. Spécialiste de la logistique collaborative, le principe de Drivoo est d'utiliser les trajets existants de particuliers pour livrer des colis en milieu urbain. Ce sont des véhicules en moins dans les villes. La livraison collaborative, qui a fait l'objet d'un atelier présenté par Jérôme Libeskind, est maintenant reconnue comme une des solutions les plus pertinentes de la logistique urbaine.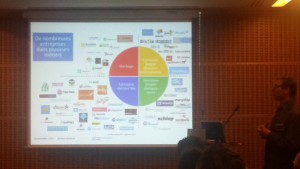 Enfin, le grand prix du Jury a été remis à l'Espace Logistique des Cordeliers, à Lyon, mis en œuvre par Ooshop, Deret et Lyon Parc Auto. Le sujet de mutualisation des espaces logistiques urbains est un concept imaginé depuis des années par les experts pour réduire le surcoût de la logistique urbaine. Cette initiative est la première totalement opérationnelle. Le jury a récompensé cette initiative remarquable qui permet de mutualiser les espaces, mais aussi les flux de transport amont, puis de consolider les flux en B to C (Ooshop) et en B to B (Deret). La distribution est entièrement réalisée au moyen de véhicules électriques. Ce site a été visité lors de la journée Logistique Urbaine organisée par l'Aslog le 13 octobre 2015.
Ces récompenses ne doivent pas faire oublier la grande qualité de certains dossiers nominés, comme le réseau de consignes InPost, permettant de réduire l'impact environnemental des échecs à la livraison des colis, le triporteur électrique frigorifique présenté par Petit Forestier ou le nouveau terminal conteneur mis en place par Docks Seine Nord Europe / Escaut.
Bravo à tous les gagnants et nominés qui montrent le potentiel d'innovation dans la green logistics et la diversité des solutions mises en œuvre !
https://www.logicites.fr/wp-content/uploads/2015/12/prix-stratégies-e1450253079542.jpg
28
100
Jérôme Libeskind
https://www.logicites.fr/wp-content/uploads/2015/07/logo_website.jpg
Jérôme Libeskind
2015-12-16 09:06:23
2015-12-16 09:06:23
Les prix Stratégies Logistique de l'innovation durable : qui sont les gagnants ?